Denny Hamlin can finally celebrate his Daytona 500 win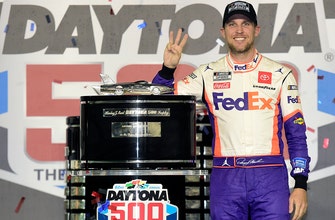 Ryan Newman's crash and status loomed over the 2020 Daytona 500. With Newman healthy, Denny Hamlin can enjoy his victory.
Related Articles
On Episode 23 of Waltrip Unfiltered, Kurt Busch talks to Michael Waltrip about his relationship with his brother, Kyle Busch,
Martin Truex Jr. and Cole Pearn recap the strategy that brought them to Victory Lane in the Coca-Cola 600 at
Roger Penske celebrated his 50th anniversary in the Indianapolis 500 with his 18th victory Read More...